Thank you. Thank you for being curious and wanting to know more about us.  This year we've taken on the big project of re-designing the entire website.  And you have arrived at a page that hasn't yet had its makeover.  Please be patient, it'll be updated soon.  In the meantime, here are the barest bones of what this page has to tell you:
This is an event we make happen together.  The ritual and workshop offerings are not by a few people brought in from outside – they are done by you, by me, by us.  We do our absolute best to make space and time for every activity someone wants to offer to the community.  The circle of sharing, those who attend, those who offer, who are also those who attend, is part of what makes the Gathering such a joy to attend.

Every year, The Gathering offers a wide variety of interesting workshops, rituals, dramas, musical events, and children's activities put on by the membership. The Gathering Board of Directors encourages everyone to participate in event programming. If you feel moved to turn your artistic or scholarly talents to organizing workshops or performance pieces that reflect (or even promote) your own Pagan-specific religious beliefs and practices, our Events Coordinator will be happy to schedule your event. If you are interested in presenting something, please fill out the "Events and Activities" part of the registration form. For your safety and privacy, all rituals and workshops are held on-site.
The deadline for all event proposals is April 30, and they must accompany a paid registration. (Deadline for Main Ritual and Open and Closing Circle is February 28th!) Submissions received after April 30 will be considered only if time and space allow, so don't delay if you have a workshop or ritual you want to present.
This year's theme is "ReWilding." We invite and challenge volunteers to host rituals, workshops, and games. We encourage all events to reflect the theme though not required.
The No Talent Bardic Festival
A traditional Sunday evening Gathering event. Sing a song, play an instrument, recite a poem, tell a story… This is your chance to shine! Register your performance with the Events Coordinator (aka: The BardMaster). One performance per person only, please, and no encores. A splendid time is guaranteed for all.
Adult Temple Space
Aphrodite's Temple is an adult-only space available for worship and for people wishing to have private intimate time with their partners.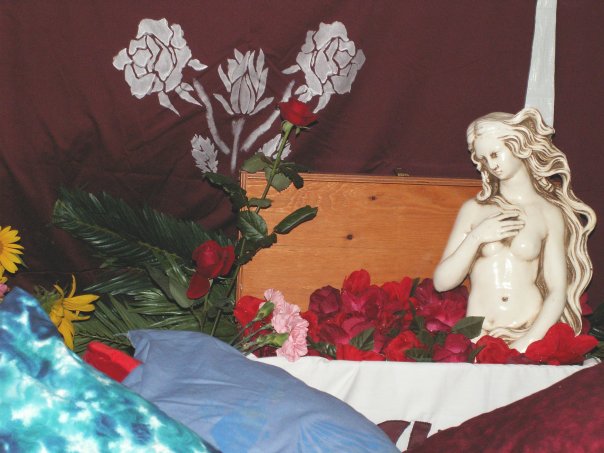 Sacred Fire
Located at the main fire pit right by the lake. A gathering place where drummers, dancers, and chanters are found and good friends are made. Please no garbage or cigarette butts in the fire! The main fire pit is a communal gathering area.  If a fire is needed for another event, other firepits are available.
Children's Activities
We are offering children's programming for the young and the young at heart! Come play with crafts, games, and workshops. If you want to get in touch with your inner child and present a kids' or teens' workshop or ritual, please let us know in the space provided on the back of the registration form. Parents of children participants must be prepared to volunteer.